Our Pearls
JUNO BAY PEARLS STORY
Juno Bay is the place where the Gods decided to make the "World's Most Desirable Pearls."
Juno Bay is named after Juno, wife of Jupiter the Supreme Roman God.
In Roman mythology Juno is Queen of the Heavens. She is the Protectress of Marriage, Women, Goddess of Feminine Intuition and the Goddess of Finance.                                                                             
It came to be that Juno Bay  produced pearls befitting the Queen of the Heavens.
Michael and Nancy Crimp and Indian Pacific Pearls P/L were privileged to be the receivers of the gods favours however as befitting a great Roman or Greek Mythical Legend the favours were not granted without spilling copious amounts of  Sweat, Blood and Tears before turning into tragedy as powers outside their control began conspiring soon after their first harvest was appraised in 2002. (They were too good for mortals.)  They were left with no choice but to walk away by late 2006.
Michael and Nancy put away about 2000 of the very best most exquisite Juno Bay Gold and Platinum Mabe Pearls and these are the pearls being made available from 2020.
Juno Bay Mabe Pearls are unique and cannot be produced anywhere else due to their being produced by a  sub species of pteria bred by us.  To produce Juno Bay Mabe Pearls, we combined specific husbandry and management techniques tuned to varying environmental conditions which enabled the shell to exploit different environmental factors and develop their myriad of kaleidoscopic opalescent colours.
 Always rarer than pink diamonds and considered equally as prestigious by passionate pearl lovers, Juno Bay Pearls were always going to be a rare premium gem.
NOT JUST A PEARL......AN HEIRLOOM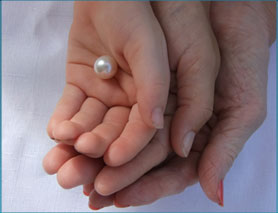 NB Rarity
The Argyle Pink Diamond mine produces 35000 carats of pink diamonds per year.